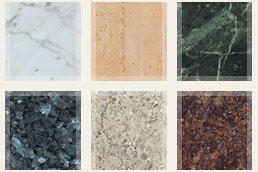 Since 1988, ICM Marble & Granite has helped homeowners, contractors and commercial building owners realize their dreams with the beauty and versatility of natural stone.
With more than 100 years of combined experience in natural stone fabrication, installation and design, ICM's experienced craftsmen have completed projects of every scope and size ranging from kitchen countertops and islands to fireplaces, vanities, custom furniture, baths and showers. We also specialize in both interior and exterior stone commercial renovations. Family owned and operated by David and Christine Gardner, ICM offers a complete showroom to assist you in selecting the stone that is just right for your home or business.
The company operates its own fabrication facility shop where state-of-the-art equipment transforms slabs of natural stone into beautiful and functional pieces for your home or business.
ICM is a member of the Marble Institute of America, the Building Stone Institute, the Natural Stone Council and the Houston Better Business Bureau. Fully insured for your protection. Proof of insurance available upon request.